T-Shirts - 15.00

100% Pre-shrunk Cotton

Unisex Extra Large Only

Light Green with NSBS Embroidered logo




 
Hats - 18.00-20.00 each
One size full fit 100% Cotton

Tough Workwear Duck Cotton Canvas brand

Velcro fit adjustment

Rust, Black and Camouflage colours with glare reducing black under visor

Embroidered logo



Patch - 5.00 each
Embroidered. 5x11 cm (2x4.5 in.)
---
USB Stick - 25.00 each
Very exciting and useful gift item or research tool is a 4GB memory sticks loaded with searchable historical issues of Nova Scotia Birds plus more. Look up a bird name, find a person's name. It is programmed on the devices and downloadable to your home computer with all functions! These one of a kind USB memory sticks come in a small gift boxes in three colours, red, blue and black complete with the new NSBS logo.
---
Tuques - 15.00 each
---
Hoodie - 30.00 each
Why is Nova Scotia Bird Society Member Andy de Champlain smiling? It's because he is wearing the official NSBS pullover hoodie! The feeling of Gildan Heavy Blend - 50% cotton, 50% Polyester keeps him warm as he traverses the province for exciting birds. Each exquisite pullover comes with the President of the Bird Society's Guarantee** that you will see 25% more birds on each outing!
Assorted colours and sizes S,M,L and XL. Can be special ordered
**Not a guarantee
---
Zipped Hoodie - 35.00 each
You won't dip when wearing this zip! The Nova Scotia Bird Society's zipped hoodie is the answer to the often erratic weather that descends on our wonderful province. Look stylish AND prepared.
Assorted colours and sizes S,M,L and XL. Can be special ordered
---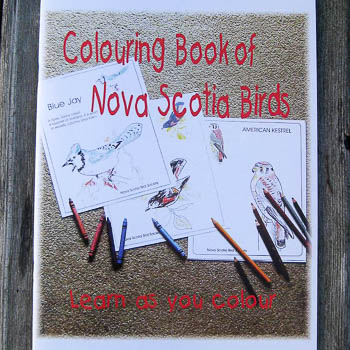 NSBS Colouring Book
Introducing the NSBS Colouring Book featuring 28 line drawings by longtime member Azor Vienneau. Learn as you colour! A great gift for all ages. Available for non-members at the price of $10 per copy, or $8 per copy if ordering 5 or more. Members receive the discounted rate of $8 per copy or $7 per copy if ordering 5 or more. Mailing costs will be extra.
---
Before you check out, you can continue to use your Shopping Cart and visit our membership page to join the Nova Scotia Bird Society by clicking on the Membership Page